Phelps County Development Corp.
For demographics on the city of Holdrege, please click here.
Phelps County
Population
Population
Growth Rate
-0.20%
Quality of Life
Our Communities
Holdrege, Nebraska
Holdrege, Nebraska: If you're looking for a community that combines old-fashioned small town values and amenities with great modern conveniences, we invite you to check out Holdrege. It's just the place to find the best of both worlds. Learn More
Bertrand, Nebraska
Bertrand, Nebraska: If you're looking for a town where you feel like you quickly know about half the inhabitants, you might like Bertrand. It's just the place for good neighbors. Learn More
Loomis, Nebraska
Loomis, Nebraska: In 2006, BusinessWeek Magazine picked Loomis as one of the top 25 places in the country to raise a child. This undiscovered gem might be just the place for your family.Learn More
Funk, Nebraska
Funk, Nebraska: If you're looking for a town that combines indoors and outdoors, today and tomorrow, volunteer work and hobbies, consider Funk. It might be just the place for you. Learn More
Atlanta, Nebraska
Atlanta, Nebraska: If you want to live in town with close neighbors but want a big sky out your window, you might like Atlanta. It's just the place to combine town and country. Learn More
Housing & Income
Income Projection
Median Household
$66,686 $76,742
Average Household
$87,411 $98,433
Per Capita
$36,354 $41,294
Workforce
2023 HealthCare/Social Assist
Businesses
41
Employed
689
2023 Retail Trade Businesses
Businesses
65
Employed
604
2023 Educational Services - Businesses
Businesses
13
Employed
428
2023 Other Service excl Pub Admin
Businesses
73
Employed
351
2023 Construction Businesses
Businesses
20
Employed
347
2023 Wholesale Trade Businesses
Businesses
31
Employed
344
Average Commute Time
15 min.
Resident Commuters
3,662
Non-Resident Commuters
790
Workforce Occupations
Labor Availability
In May 2019, a Labor Availability Report was conducted by Kenneth M. Lemke, Ph.D. The report concluded that an employer offering attractive working conditions with competitive wages and employee benefits in Phelps County would be able to select from a substantial pool of applicants. In fact, the report states, "…a prospective new employer providing job opportunities with competitive wages and benefits and offering career opportunities would be a welcome addition to the employment base in the Phelps County Labor Area. The response to such employment opportunities would be substantial, and as this report shows, there is a sizeable labor force and population base living within the Phelps County Labor Area."
Employable Commuters: Phelps County's primary labor pool is drawn from a geographic area including Phelps County and its contiguous seven counties; but, existing employers attract a labor force from an even larger area. With minimal road congestion and convenient access to I-80 existing employers are able to attract qualified employees from a 60-mile radius: a commute time of around 60 minutes.
For more detailed information, download the Labor Availability Report.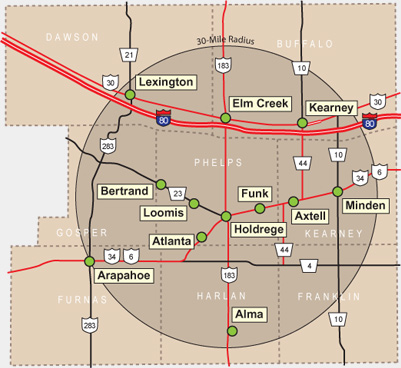 Area Wage and Benefits Comparison
Workforce Establishments
| | | |
| --- | --- | --- |
| Total Businesses: | | 985 |
| Total Employees: | | 5,165 |
| Total Residential Population: | | 9,249 |
| Employee/Residential Population Ratio: | | 0.56 |
Leading Employers
Phelps County Employers
Manufacturers
Employer
Product
FTE*
Becton Dickinson
Medical equipment and supplies
150
embecta
Insulin syringes
500
Allmand
Portable light towers, arrow boards, & industrial heaters
225
Hawkins Manufacturing
Farm Equipment
18
Nebraska Star Beef
Beef processing
8
Earth Science Laboratories, Inc.
Algaecide and bactericide used in the treatment of lakes, ponds, potable water, pools, spas, & hot tubs
7
Planterworx
Agriculture implements
6
Holen One Farms
Spices, marinades, & BBQ sauce
2
Private Employers
Employer
Product
FTE*
LandMark Implement, Inc.
Farm equipment, products, & services
227
Phelps Memorial Health Center
Medical
220
Integrated Electrical Services, Inc. (IES)
Electrical design, construction, & maintenance
215
CHS Agri Service Center
Mixed-grain feed & fertilizer
200
Holdrege Public Schools
Education
168
Holdrege Memorial Homes
Long term care/retirement center
150
Christian Homes Care Community
Long term care/retirement center
130
Central NE Public Power & Irrigation
Electric Utility
102
Mosaic
Services for developmentally disabled
54
Public Employers
Employer
Product
FTE*
Phelps County
County Government
81
City of Holdrege
City Government
56
*Full Time Equivalent
Higher Education
Central Community College
Central Community College's Training and Development Team is responsive to the training and educational needs of Phelps County businesses. Training can be conducted at the location of your choosing. CCC has experience in the following subjects but welcomes the opportunity to create curriculum that meets your needs: Leadership and Development, Computer Training, Human Resources Management, Industrial Maintenance, Quality Control, Environmental Health and Safety, Computer Technology, Mechatronics, Welding Technology, and Industrial Technology.
A CCC Learning Center is conveniently located in Holdrege and provides educational opportunities for the high school graduates and non-traditional students, injecting potential employees into the labor pool. CCC students typically continue to work and live in the 25-county area served by CCC. In fact, over the past two decades 95% of CCC graduates (17,786) stayed in Nebraska and 77% (14,416) remain in the CCC service area.
University of Nebraska at Kearney
The University of Nebraska at Kearney also provides local businesses with a supply of bright, young employees. UNK, a quick commute from Phelps County, offers 170 undergraduate majors, 25 pre-professional programs, and 34 graduate programs sure to complement business' needs.
Transportation
Highways
U.S. Highways 6/34 and 183 intersect near the center of Phelps County sending truck and car traffic in all four directions. An Interstate-80 interchange is located just 17 miles north of Holdrege.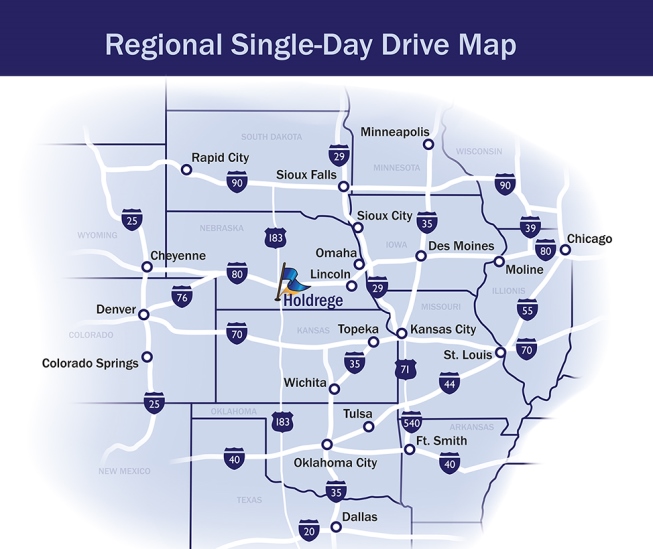 Rail
The Nebraska Kansas Colorado Rail (NKCR) is operated by logistics company OmniTrax. Their motto is "Rail Made Easy." The NKCR has an interchange with the BNSF Railway in Holdrege.
Click the map at the right for a larger version.
The Iron Horse Business & Industry Park has been engineered with 8 rail-served sites. OmniTrax, the owner of the NKCR, works with the BNSF to get your raw materials in and/or your finished goods out.
Air
Brewster Field is the municipal airport in Holdrege. It has one lighted, hard-surfaced 4,700-foot runway. Small and medium-sized corporate jets can be accommodated. A heated hangar is available for long or short-term aircraft storage. The hangar also houses a comfortable passenger waiting area and pilot's lounge.
Kearney Regional Airport, just 45 minutes from Holdrege, is served by SkyWest Airlines / United Express, operating 50 passenger regional jets with 12 nonstop roundtrip flights per week to Denver International Airport.
The Central Nebraska Regional Airport in Grand Island is just 90 minutes from Holdrege. American Eagle offers daily flights to and from Dallas-Ft. Worth. Allegiant Airlines also flies weekly flights to vacation destinations in Phoenix, Las Vegas, and Orlando.
Free and convenient parking, short security lines, and speedy baggage claim make flying in and out of Kearney or Grand Island effortless.