Mike Borden Bettered Phelps County with Friday Cruise Nights
More often than not, community projects can take months of planning, scores of meetings, and a plethora of phone calls to prod them into being. But sometimes community movements can spontaneously spring to life when the right person with the right life experiences, and community spirit takes note of the world around him and does something about it. In Holdrege, Mike Borden was that person and Friday Cruise Nights was his brainchild to better his town during the COVID-19 pandemic.
Mike Borden was acutely aware of the toll the pandemic closures were having on the almost two dozen restaurants in Holdrege. Borden, a graduate of Holdrege High School, owned and operated a Subway franchise for thirty years in a nearby town before returning to Phelps County a decade ago. He knew how quickly bottom lines would be affected when doors had to be closed, especially for restaurants without drive-thrus. About this time, he heard on the radio that a town had started "cruising nights" to get people out of their homes in a way that respected social distancing, but fostered community spirit.
That story sparked some high school memories for Borden about "bombing Fourth Avenue," slang for cruising the length of the road to be seen and to see who was around. From these happenstances, the idea of Friday Cruise Nights was born, bringing Phelps County together in a safe, socially-distanced way with the added twist of supporting local restaurants.
For that first one on March 27th, Borden put his own money to work to encourage residents to order meals from J.B.'s Sports Bar and Grill and Country Cookin' during the cruising hours. He gave each restaurant $100 and challenged them to match his donation to randomly distribute ten dollar gift cards to customers who came to their restaurants during that night.
How did Borden orchestrate all of this? Facebook. While back in the day, it was literal word of mouth that got folks out to the Avenue, Borden used the power of social media. He wrote a post, tagged one hundred friends, and asked them to share.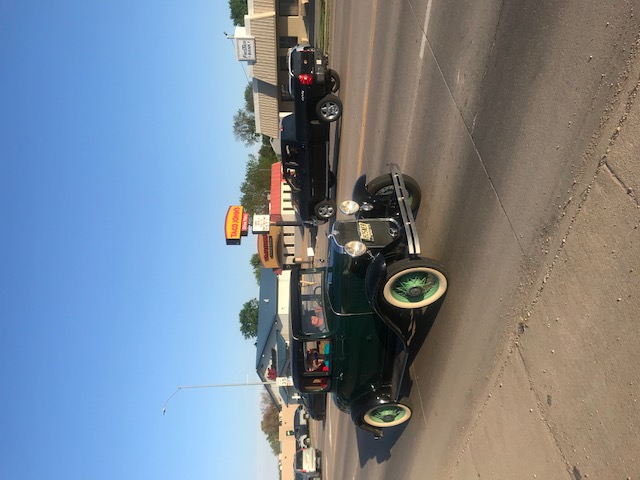 "It's been amazing to see the power of social networking and the kind-heartedness of people in the community come together to make this way bigger and even more enjoyable than I could have imagined," said Borden. "My wife and I sit at the end in our lawn chairs eating our dinner, and I just take picture after picture. I go home and spend two to three hours making the video to post on Facebook. It's something special."
The event has grown and morphed as the word has spread and the weather has grown warmer. People sit out in every parking lot lining Fourth Avenue eating their takeout and watching the parade of vintage and muscle cars — and once, even a bright red tractor — stream by. Borden thinks the largest parade to date had 350 vehicles and he has noticed license plates from twelve different neighboring counties. Most every restaurant in town is now involved.
Not only are cars on display, but the heart of the community is shining through too. Residents have followed Borden's lead and donated thousands of dollars towards restaurant gift cards. Over $4,000 was collected for Christian Charities to help folks financially affected by the pandemic pay rent, mortgage, car repairs, prescriptions and other basic needs. Holdrege High Student Council members and others participated in a food drive for the Phelps Community Pantry.
Pastor Murray Jones, President of the Phelps Community Pantry Board said, "The Pantry is grateful to everyone in our community who donated three pickup loads of food and $952 in cash during the recent food drive. We are also thankful to Mike Borden and those individuals who helped collect the food. These donations will help many families in Phelps County during these challenging days."
The Cruise Nights have acted as stand-in celebrations for everything from birthdays to events like Swedish Days. One of Borden's favorite themes has been Flag Night to celebrate Memorial Day where "close to sixty American and military flags could be seen flying from vehicles up and down Fourth."
Cruise Nights really took off because Holdrege had the perfect sixteen block stretch of road, a no-nonsense organizer, and a generous community spirit, but it was created because of the circumstances brought about by the pandemic. As restaurants are able to open with 100% dining-in capacity, Borden is happy to report that all of the restaurants made it through the restrictions. But how much are the Cruise Nights needed now that residents are able to get back to their usual activities? Only time will tell if they become a permanent tradition, but for now, Borden is going to promote one more parade to honor law enforcement officers and first responders, and then see where the rest of the summer takes him.
Follow Mike Borden on Facebook to get Friday Cruise Night updates and to view his videos.