Workforce & Talent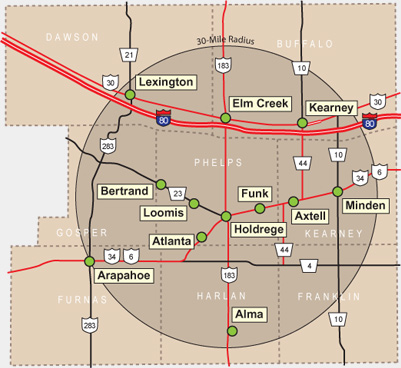 A labor availability study was conducted by Kenneth M. Lemke, Ph.D. in 2013.  He concluded that an employer offering attractive working conditions with competitive wages and employee benefits in Phelps County would be able to select from a substantial pool of applicants. In fact, the report states, "…a prospective new employer providing job opportunities with competitive wages and benefits and offering career opportunities would be a welcome addition to the employment base in Phelps County. The response to such employment opportunities would be substantial, and as this report shows, there is a sizeable labor force and population base living within the Phelps County Labor Area."
Employable Commuters: Phelps County's primary labor pool is drawn from the geographic area illustrated above. With minimal road congestion and convenient access to I-80, existing employers are able to attract qualified employees from a 40-mile radius: a commute time of approximately 40 minutes.
For more detailed information, download the Labor Availability Report.