PCDC Selects Lost Way Brewery as Business of the Year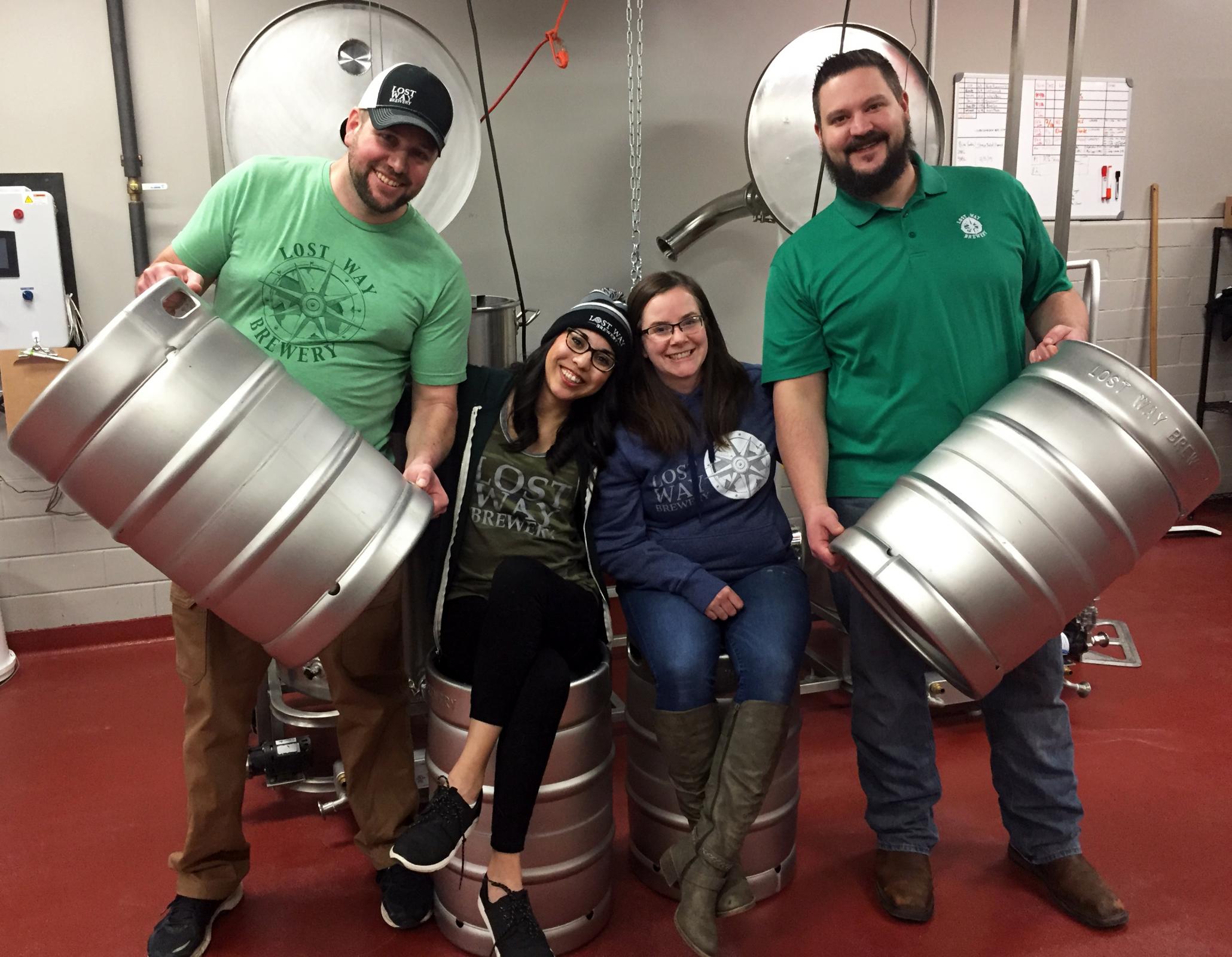 In an era when screen time seems to be the predominant way of socializing, Lost Way Brewery is bringing back some old-fashioned face time. The brewery, which opened in November 2017 in downtown Holdrege, has become a place for old and new friends to mingle and to enjoy a taste Scotch Ale, German Pils or Corn Huskin' Red.
While they sip and socialize, guests sometimes feast on smoked ribs, fish and chips, calzones, hot dogs and other delicious meals from a variety of food trucks. There have been tailgate parties, comedy tours, trivia nights and ladies crafts nights. And, there have been visitors from around the world.
To honor the entrepreneurial spirit and the economic boost of this new business, PCDC has chosen Lost Way Brewery as one of its 2018 Businesses of the Year. The brewery will be inducted into the Phelps County Business Hall of Fame at PCDC's Annual Meeting on March 14.
"PCDC recognizes your entrepreneurial spirit and the embrace of Holdrege, Nebraska, as your new home," the selection committee reported. "Lost Way has quickly become a familiar and integral part of the community's cultural fabric, and it represents a business model that we hope to see replicated by others."
Lost Way Beginnings & First Year Growth
The business began when two couples, Mark and Jessica Kraus and Jason and Kimberly Hines, found their way to Holdrege and decided the rural Nebraska town would be a good place to put down roots. Their passion for craft beer then led them to buy an empty building at 614 Third Ave. to start a brewery.
Mark and Kimberly, who are siblings, and Jason grew up in Michigan, while Jessica grew up in New Mexico. They all relocated to Phelps County after Jason landed a job at BD Medical. Both families fell in love with the community and encouraged Mark and Kimberly's parents and sister and Jessica's sister to also move to the area.
The PCDC award came as a welcome surprise to the Lost Way team.
"We as a team couldn't be more honored and thrilled to be recognized by the community," Mark Kraus said. "We strive every day to help grow our community and to be recognized by the organization at the center of economic development in Phelps County is truly the greatest honor!"
Mark said Lost Way considers their business to be "community."
On Lost Way's first night of business, they donated 100 percent of tips to the Holdrege Animal Shelter/Rescue. They also have collected food for the Phelps County Food Pantry, hosted several fund-raising events for various causes and often donate items for various fund-raising auctions.
The four owners worked every night the brewery was open (Mondays, Thursdays, Fridays and Saturdays) to launch the business. They have recently hired three part-time "beertenders" to help with the growing business. They also recently added a small "pilot" system that allows them to brew more unique beer styles 10 gallons of beer at a time.
Loyal Customers & Growing the Community
The brewery has become one of the social hubs of the community where locals enjoy visiting with old and new friends. The brewery owners are thankful for their loyal customers and fans.
"We have worked to create a family-friendly, educational place for folks to learn about various styles of beer and the process of producing it," Mark said. "Nothing makes us happier than the faces of our loyal guests and the opportunity to make a new friend when someone we haven't had the pleasure of meeting walks through the door."
Besides being a local favorite hang-out, the brewery has also attracted guests from across the United States and the world in the 16 months it has been open.
"To think that we would have the opportunity to discuss the merits of a proper English Pint with someone from England in our first year of business in Holdrege, Nebraska, was way outside of our wildest imagination," Mark said. "Or along the same lines, the Belgian character of a Saison with someone who spends numerous weekends in Antwerp drinking beer from the breweries that started the style can really make you realize the connective capability of finely crafted beer and the folks who enjoy it."
Mark said they do love being a place that can play its part to grow the community.
"One of the great things the last two holiday seasons and during Swedish Days last year was hearing from the folks who had left and come back to visit be so excited about a taproom in their hometown," he said. "We hope we are able to provide a spark from that excitement that gives other folks the idea to start something here and builds a wave of momentum that makes Holdrege THE place to live and raise a family!"
PCDC's annual meeting and Business Hall of Fame induction ceremony will be Thursday, March 14, at JB's Sports Bar & Grill. The public is invited to attend, and tickets can be reserved for $35 per person by calling Stacy at PCDC at (308) 995-4148 or emailing Stacy@PhelpsCountyNE.com.
By Kristine Jacobson (KRJPR) for PCDC