Sweeneys Leave East Coast Behind for Freedoms of Phelps County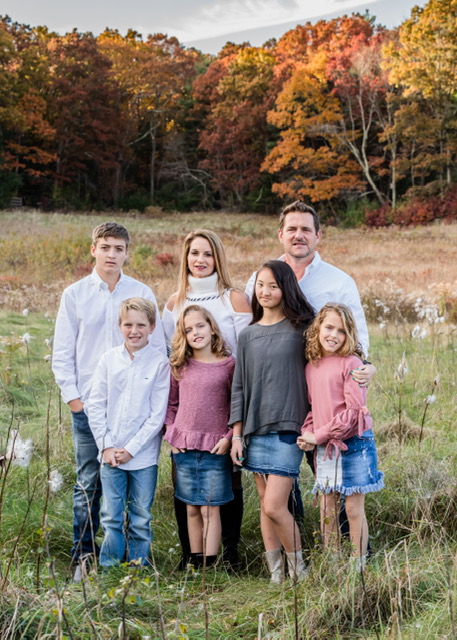 Eric and Beth Sweeney recently left behind long commutes, crowded freeways, less sunlight, and people with bad attitudes and moved their family of seven to Phelps County for a "place that may not be 100 percent perfect, but darn close."
Eric, a Loomis High School graduate, and his wife, Beth, a Massachusetts native, sold their home in Sharon, Mass., in 2021 and moved to a home on the edge of the Holdrege Country Club golf course.
The Sweeneys own Sweeney Wealth Management, which they had been operating from Boston since 1996. In April 2018, they opened a second office in downtown Holdrege and traveled here once a month to serve clients in rural Nebraska.
"Over time and with all the craziness in the world, we decided we would build a house out on our family's land north of Loomis," Eric said. "By chance, a beautiful house that needed some updating (which Eric has done a lot of over his career) came on the market right by the golf course and near everything that Holdrege has to offer, and we decided it was time."
They sold their home and headed west. They still have an office in downtown Boston and a second home in Massachusetts where they stay when they go back for business.
The Sweeney Wealth Management Group of Steward Partners is a financial advisory team made up of Eric and Beth, who are wealth managers, and their long-time assistant and personal relationship manager Patricia (Trisha) Stefanou. They design comprehensive, customized, personal financial plans and help their clients carry out those plans. Services include asset management, retirement planning, estate and tax planning strategies, alternative investments, insurance, wealth preservation and other unique planning needs. They serve clients from across the United States as well as in England, Israel, and as far away as Dubai.
Beth, who earned a political science degree at the University of Massachusetts Lowell, had planned on pursuing a law degree but decided to follow in her dad's footsteps and become a financial advisor. She started advising in 1996 and became a partner and managing director of Steward Global Partners Global Advisory in 2017. Eric earned a degree in agribusiness and economics at the University of Nebraska-Lincoln and operated multiple business ventures (a brewery, a painting business, a home inspection business, and an aviation company) before joining Beth in her practice.
Eric said there are too many benefits to name of their decision to relocate to Phelps County.
"One, no traffic," he said. "Two, no jerks. Everyone here is pleasant and nice. The days are longer in both sunlight and the extra time we have from not spending hours in a car. Our old commute was about one-and-a-half hours to go 21 miles."
Also, Boston is located on the far east side of the Eastern Time Zone, while Holdrege is on the far west side of the Central Time Zone.
"I don't think many people think or appreciate basically two more hours of sunlight every day," Eric said. "We definitely do. That is a really big benefit. Also, the stock market closes here at 3 p.m. We could go on and on with all the positives."
Now, instead of spending most of their time in Boston with a week in Holdrege, they have reversed their schedule and spend about a week a month in Boston and the rest in Holdrege.
"We laugh that I have a hard time getting Beth on a plane to go back because she just loves being in Holdrege," Eric said. "So, it's not unusual for me to go to Boston while Beth holds down the fort in Holdrege. The beauty of being partners is the fact you can divide and conquer."
The Sweeneys have five children: Cole, a freshman at Colorado School of Mines studying chemical and biological engineering; Lexie, a sophomore at Loomis High School; Noah, a seventh-grader; and twins, Eden and Adele, who are 10.
"They all love the freedom and opportunities in Phelps County," Eric said. "No masks or canceled events on a daily basis is also a major plus. It is much different than where we came from."
Eric said the thing he most enjoys about living in and doing business in Phelps County is the people.
"People make a community," he said. "This is a one-of-kind community."