Community Teamwork Makes New Hotel Possible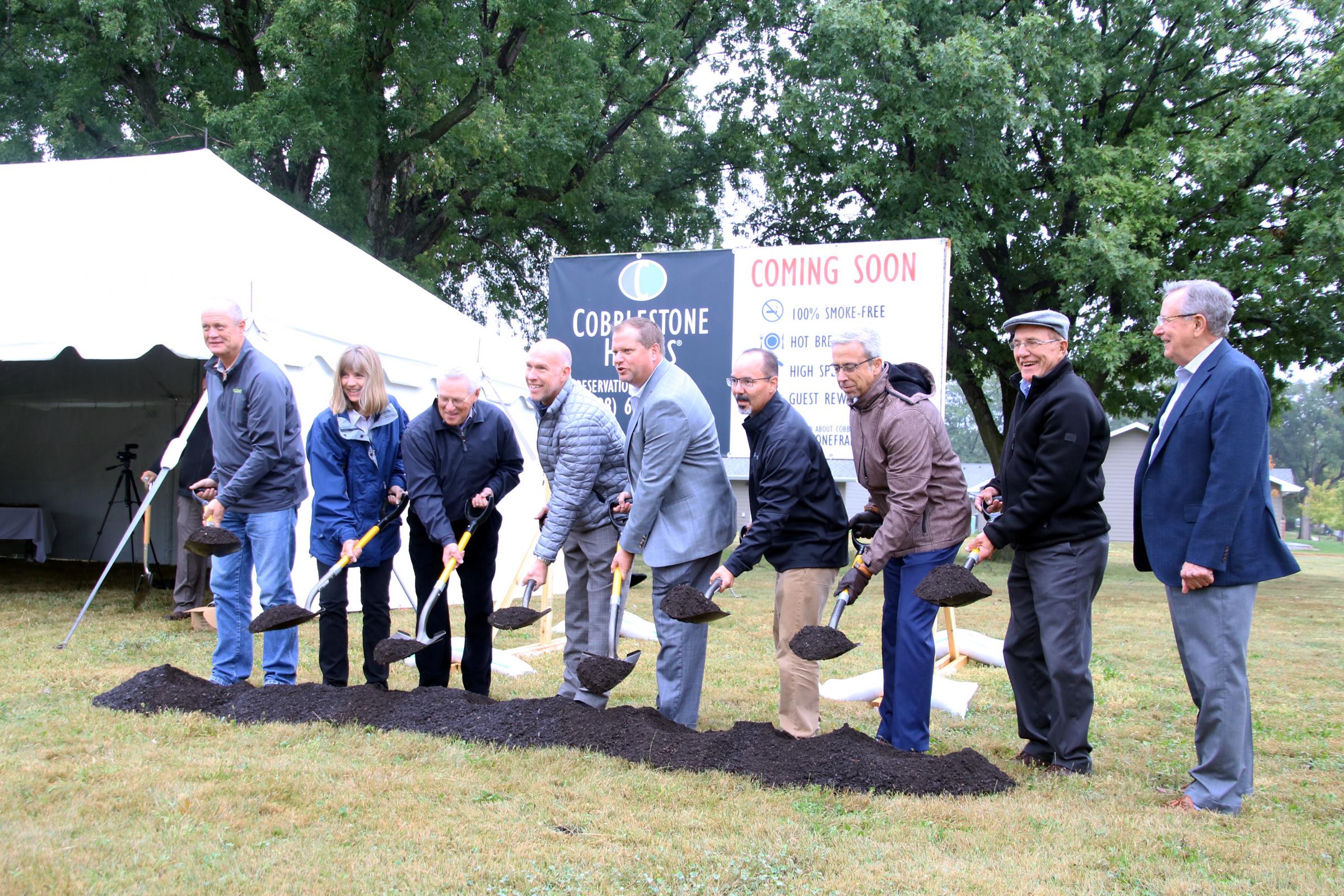 Holdrege will soon become the 14th Nebraska community to welcome travelers to stay overnight in a new Cobblestone Hotel.
On October 2, community leaders and Cobblestone hotel executives came together to break ground on the $4 million project, which is expected to generate more than $900,000 in hotel room fees each year.
The 45-room hotel will be located on Highway 183 on the site of the former Washington School.
Jeremy Griesbach, President of Development for Bri-Mark Builders, said at the groundbreaking that the company now has 148 hotels open or under construction in 27 states. Bri-Mark is a Cobblestone Hotel partner company that specializes in hotel development and renovation and will be in charge of building the new local hotel.
Cobblestone Hotels are open in small Nebraska towns like McCook, Broken Bow, Cambridge, Hartington and Wayne. A new Cobblestone hotel is also being built in Cozad.
The 11-year-old Wisconsin-based company opened its first hotel in Clintonville, Wis., in 2008 and since then has realized the need for hotels in many small towns across the country.
Cobblestone Hotels offers guests "Big City Quality… Small Town Value." The midscale hotel caters to both those away from home on business or leisure. Complimentary hot breakfast buffet, wireless internet, daily newspaper and onsite convenience stores are all staples in the Cobblestone Hotels brand.
Holdrege Mayor Doug Young said the Cobblestone Hotel will be a great asset for the community.
"It's exciting for the City of Holdrege to see a hotel family coming up like the Cobblestone," he said.
Young pointed out that several hotels in Holdrege have closed over the years, including the Hotel Dale.
"A lot of hotels we've had are non-existent, and we haven't replaced any of them," he said.
PCDC Board President Reed McClymont said PCDC conducted a hotel study years ago that showed a need for another hotel.
"It determined we could support a new hotel as well as keep the other two hotels we have in Holdrege prosperous," Reed said.
He credited the teamwork of many in the community for helping make the hotel a reality, including PCDC, the Holdrege Area Chamber of Commerce, the City of Holdrege, the Community Redevelopment Authority (who approved tax increment financing for the project), local lender Bruning Bank and the Holdrege Hotel group (who will own the new business).
"There's a whole group of us that have to partner together to get things like this going," he said.
After commissioning the hotel study, PCDC helped recruit a developer and investors to make the project a reality.
Jessica Kraus, Executive Director of the Holdrege Area Chamber of Commerce, said the hotel will bring new money to town and will boost local businesses.
"The growth will directly impact all of our retail and dining establishments," she said. "Couple that with all the projects we have going on right now, and it's really, truly an exciting time to call Holdrege home."
The hotel will be owned by a group of investors, Holdrege Hotel Group. Mike Kalb of Kearney spoke on behalf of the investor group at the groundbreaking.
"A groundbreaking is never a celebration of investors or the donors," Kalb said.
"It's a celebration for the community. You can be proud of Holdrege as being very helpful."
Kalb also developed the Washington Square housing project that sits just east of the new hotel site and will be the developer for the retail/commercial space that is planned to the north of the hotel.
"From an investor group standpoint, we want to be a great community partner and a great neighbor," Kalb said.
Construction is expected to begin soon on the hotel, and it is expected to take 9-10 months to complete.