Veterans Memorial Committee Awards Bids for Holdrege Project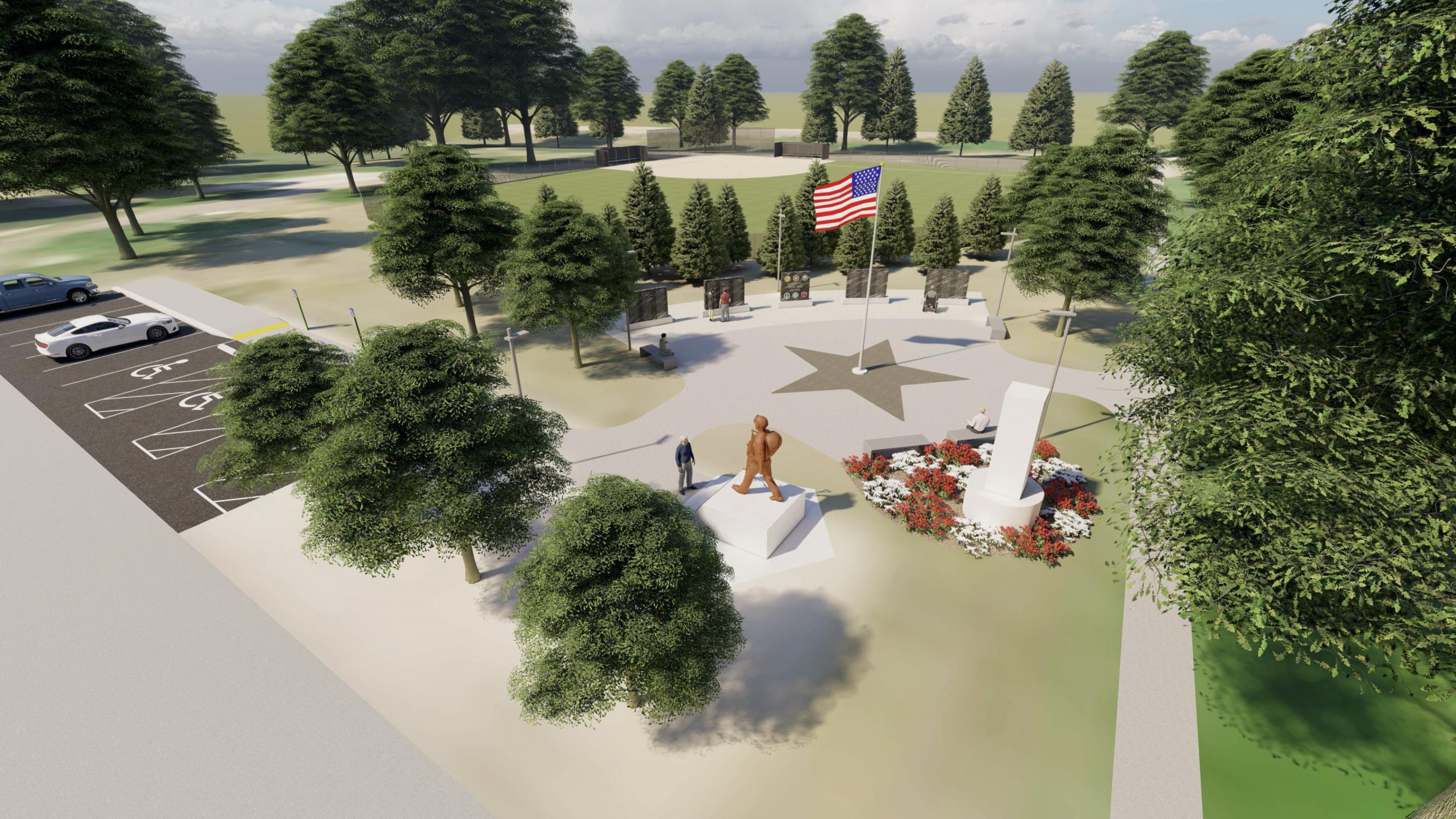 The Holdrege Veteran's Memorial Committee has approved construction bids for its new project in Holdrege's South Park. Doug Stevenson of Olsson organized and administered the process on behalf of the committee and submitted bids for approval.
The committee awarded bids to Popple Concrete Construction for the concrete work, K&D Motor & Electric for the electrical, and Palmer Brothers Granite Co. for the granite slabs and engraving. Bids included donations to the project from the contractors selected.
The veterans memorial will be built on the northwest side of the South Park baseball field where it will be visible from Highway 183.
In a design rendered by Olsson, the memorial will contain five granite tablets to list area residents who served in the five major branches of the military plus the newly created Space Force. The tablets face a lighted American flag in the center that is set on a star. Stars will be a prominent theme in the display.
Construction will begin this spring when weather permits. A project dedication is planned for Veterans Day in November later this year. Now that construction bids are awarded for phase one, the committee will now focus on phase two of the project, which involves acquiring a Vietnam-era aircraft for a static display at a location to be determined in the park and also the installation of a patriotic sculptural element at the entrance to the memorial.
South Central Nebraska CERT, in cooperation with other area organizations, is planning a Veteran's Memorial Fundraiser on Saturday, May 22, 2021. This will be a full-day event to raise money to build and maintain a new veteran's memorial.
The event was originally set to occur on Sept. 19, 2020, but was postponed due to COVID-19. The fundraiser will include live entertainment, craft and food vendors, family activities and a veteran's memorial dedication.
Veterans or family members of veterans who served honorably may add names to the granite monuments for $200, which covers the cost of engraving. So far, nearly 300 names have been submitted.
The veteran's memorial is a privately funded collaborative project of Holdrege DAV, Phelps County Community Foundation, Phelps County Development Corporation, Palmer Brothers Granite, Holdrege Area Chamber of Commerce and the City of Holdrege.
A committee comprised of veterans and representatives from these organizations led the planning and design of the memorial. The City of Holdrege has provided property for the site and will provide ongoing maintenance.
More than $185,000 has already been donated toward the $200,000 needed for phase one of the project. Additional funds will be necessary to complete phase two.
To see plans of the new veteran's memorial, to make a donation or add a veteran's name, visit the website at www.holdregeveteransmemorial.com.