Stevenson Praises Downtown Holdrege Living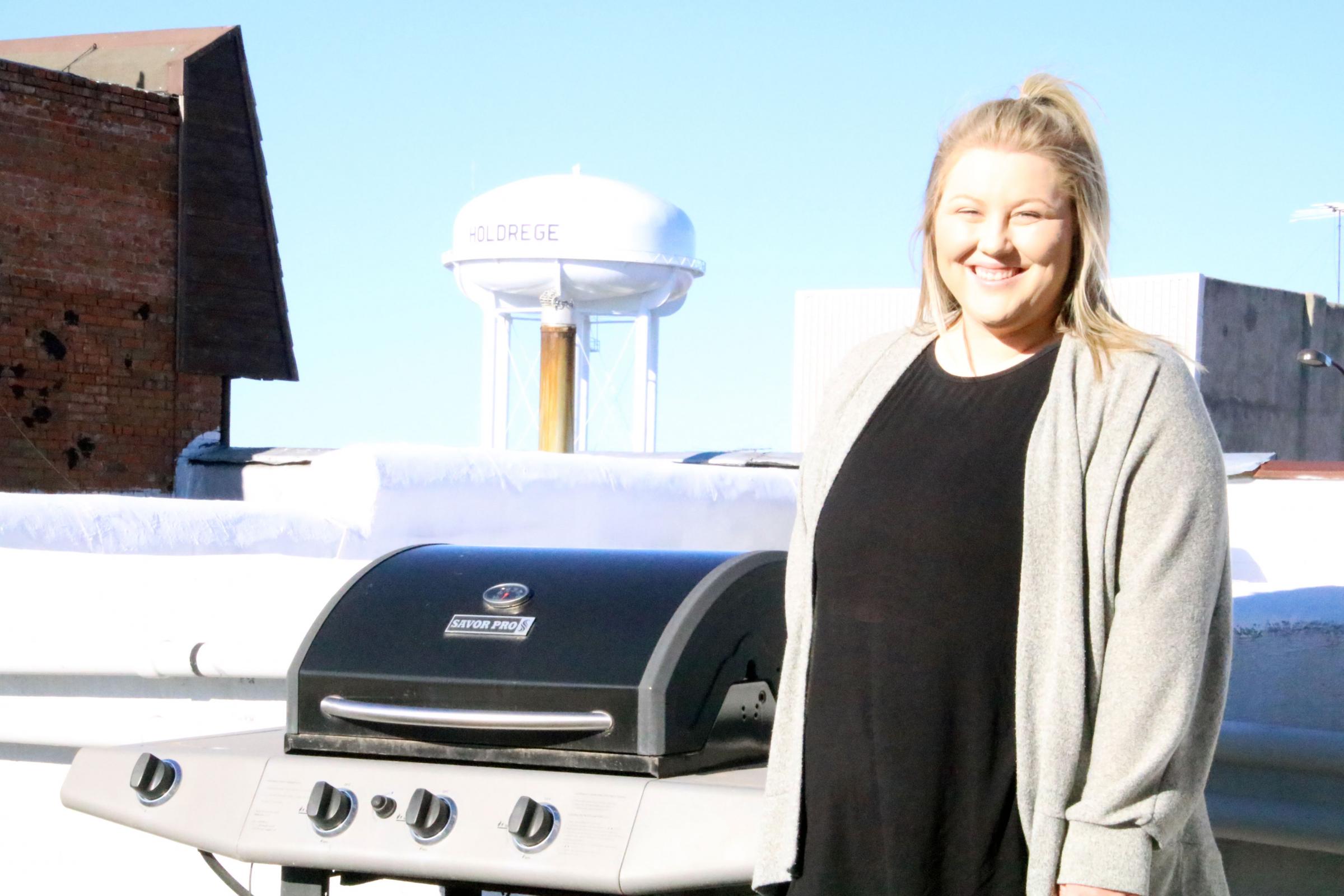 Living downtown in a small town has its benefits.
For Kelsey Stevenson, a downtown Holdrege business owner in her 20's, it's the proximity to downtown entertainment and shopping, that vibrant feeling of living in a city and affordability that make her happy each day to wake up in her Fourth Avenue apartment.
"I have always wanted to live downtown," Kelsey said. "It's like my own little taste of the city, but I walk out my door and I'm still in my little small town that I like."
Kelsey grew up in Holdrege and always pictured herself someday living in a big city like Denver or Chicago.
"But, then I left and went to school and realized how much I missed Holdrege," she said.
She returned to her hometown and opened Salon 31 in January 2015.
"I just like Holdrege," Kelsey said. "When it comes to small towns, it's one of the best."
She enjoys seeing familiar faces when she's shopping for groceries and the convenience of driving about anywhere in town in less than two minutes.
Kelsey started her downtown living experience in September 2018 after living in a house for a few years. She prefers and loves the downtown apartment.
"I work downtown, and I live downtown, so there's days I don't even have to get out the car," she said. "I just really like it."
Kelsey said she feels safe downtown, and she appreciates the time she saves by being able to walk just a few steps for a quick lunch break at home.
She embraces the constant hum and vibrancy of downtown.
"You hear the train and the cars, but that's like white noise to me," Kelsey said. "The train is my favorite noise. It really makes me feel like I'm living in a city."
Her downtown apartment is less than two blocks away from Lost Way Brewery, downtown clothing and gift stores, restaurants and a coffee shop.
As a single woman in her 20's, Kelsey said she finds plenty of opportunities to socialize in Holdrege.
She enjoys spending times with friends at the brewery, especially the monthly Craft With A Draft ladies nights. She enjoys listening to musical entertainment at JB's Sports Bar and Grill and hosting friends in her spacious apartment.
Kelsey said that her friends think the apartment is great because it's unique and not the typical "cookie-cutter" apartment.
"I don't even feel like I'm in an apartment because I have two floors," Kelsey said.
The population of 20-something's in Holdrege isn't large, but Kelsey said that doesn't bother her because she enjoys spending time with people in many different stages of life.
The only disadvantage to downtown living that she could think of was not having a garage.
Kelsey said for her, living downtown also makes financial sense. Her downtown apartment rent includes utilities, trash service and internet. And she doesn't miss the expense of yardwork and the possibility of seeing snakes when she mows.
"I don't miss having grass," she said. "It was really hard finding time to take care of it."
She does have her own outdoor rooftop patio, and she is looking forward to warmer weather to grill and enjoy the sunshine.
"I still think it's the most untapped potential in this town," she said of downtown living. "I just think it's the greatest thing."
PCDC's Downtown Revitalization Economic Assistance Mission (DREAM) provides grants to downtown building owners to create or renovate downtown living units.
The program offers up to $10,000 in matching grants per new living unit created in downtown Holdrege (if five living units are created, up to $50,000 in grants could be awarded). Work may include fire and safety, electrical, plumbing, structural and other related work to make outdated buildings habitable. Grants may be combined with flex loan program, which is for interior or exterior major renovations costing more than $10,000.
For more information on the GO! DREAM program or downtown living, contact Carley or Ron at PCDC at (308) 995-4148 or visit the website at https://www.phelpscountyne.com/about-us/go!-programs/go-dream-programs.